Retaining Walls and Earthmoving
When you are looking to improve the value of your property with a quality asset such as a rock retaining wall, you need to choose a company that has the experience and the successful track record of professional performance.
At Currumbin Earthmoving we pride ourselves on being able to cater for the individual needs of our clients.
We provide
FREE QUOTES

and spend time discussing projects with our clients before commencing any work.
Our rock retaining wallsand work are valuable assets to any property or development
Our reputation is built on our quality work by professionals who are able to advise clients on walls for aesthetic purposes, drainage issues and/or simply to retain and build. Our work is guaranteed and to engineered standards with appropriate certification if necessary.
We work in a close partnership with our clients to deliver a professional result that exceeds their expectations and this is also done with a focus on providing an eco-friendly solution for our clients needs.
Currumbin Earthmoving is the provides a professional, genuine service that is supported by experience that you can trust. When you choose Currumbin Earthmoving, you get the team of professionals who are used by the professionals!
We have access to a range of retaining products depending on the style of project and the purpose of the retaining wall and have the expertise to build retaining walls or any size, shape or style.
REVETMENT WALLS
(Local Govenment Announcement)
Gold Coast City Council has announced that all homes along waterfront (creeks, beaches, rivers and canals) need to have their revetment walls (retaining walls along water) inspected and they will need to be repaired or replaced if they are not in a satisfactory condition or receive a fine. Currumbin Earthmoving has years of experience in repairs and maintenance of revetment walls.
We also proudly boast that we are one of the only retaining wall companies in South East Queensland where the owner of the business is involved in the entire project – from quoting and design to excavations and construction;to placing of the final rock on the top of the retaining wall.
To protect and preserve native fauna in the locations where we work we use
Our most common materials for retaining walls are:
BUSH ROCK

for a more rustic or natural project, we dig these from our own quarries and can access a range of colours from reds/oranges to dark brown. Moss covered rocks are also available, along with feature rocks with staghorns, ferns, etc

SANDSTONE

a very popular product that can set off a front or backyard with style and class. Sandstone blocks range from A Grade (straight edged blocks) to C Grade (a random and more casual look) and come in white/grey to yellow to red tones. We can advise on colour tones to suit your home or building.

BLUESTONE

a more economical product that is ideal for edging around water or for projects that are specifically for retaining.

CONCRETE SLEEPERS

no more termite troubles with this sleeper product that is strong, provides excellent retaining and ideal for where space may be an issue. A product very popular in commercial developments and unit blocks. It comes in a range of finishes and can be designed to look just like a wooden sleeper wall.

GABION CAGES

perfect for long or high walls with drainage issues. The cages provide excellent stability along creek beds, support around bridges or in places effected by flood or storm water.

RIVER STONE, GRAVELS AND PEBBLES

for all finishing products, for fixing high traffic areas and for drainage, we can access all types of stone, gravel and pebbles and can advise clients on what would be most suitable for their project
Our Equipment
Our current equipment has all been purchased new post 2005 and is reliable, well maintained and regularly serviced.
Our fleet consists of
Excavators from 6 tonne to 22 tonne

– with auger

– with tilt bucket

– with grab attachments

Tipper truck and dog trailer

– 13 cubic metre payload

Low loader trailer

– 22 tonne

Bobcats
Front end loaders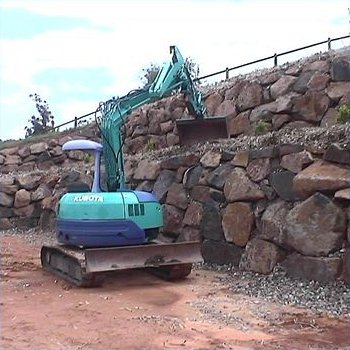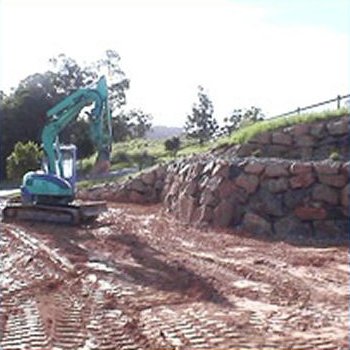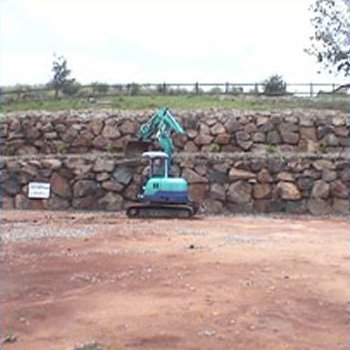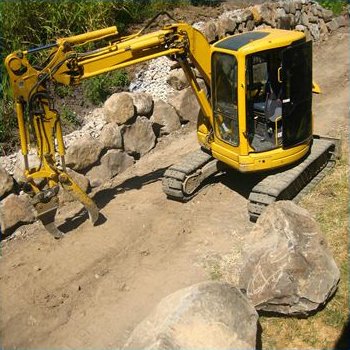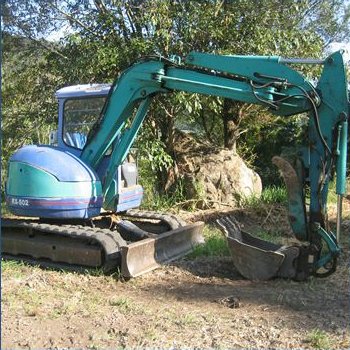 Hydro Electricity Setup
With alternative energy sources being the key to a sustainable future, harnessing the energy available in our natural environment is the simplest, cleanest and most efficient way to provide power and electricity. Solar energy is one method of drawing from our natural environment, however wind and water are often overlooked. Water is available 24 hours a day and can provide a constant supply and can be harnessed relatively easily. Running water produces vast quantities of energy and when chanelled and controlled is a reliable source for power supply.
If you have a property with its own water supply and you are interested in exploring alternate power sources, feel free to contact Gene and discuss you ideas and plans. Gene has created a number of hydro electrical systems for commercial and private clients who want to turn the running water on their property into a source of power, saving them hundreds of dollars a year. Many use this in tandem with solar systems and find themselves producing power 24 hours a day and constant power supply at their fingers.
Our Projects
Our clients include countless satisfied private clients as well as building companies and larger organisations. Clients of note are Gold Coast City Council and Brisbane City Council, Powerlink, Powerclear, Ray White Construction, Roadtek, Queensland National Parks, Aspect Civil Construction, G J Gardner Homes, Plantation Homes and many more……
Rock Walls
Gold Coast

–

Retaining Walls
Gold Coast